A Brief History of Navajo Blankets & Rugs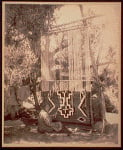 In the 16th century, when the Spanish arrived and subsequently conquered the peaceful pueblo Indian cultures of what is now New Mexico and the American Southwest, the Navajo or Dine peoples which then lived north of the pueblos were seldom if ever seen by the Spanish and known mostly through the Pueblo Indian stories and encounters (often stories of raids by the Navajo on the pueblos) related by the Pueblo tribes.
The Navajo--who may have come together as an amalgamation of several tribal and clan cultures of the Southern Plains to form their own distinctive culture less than one hundred years before the Spanish Conquest-- are linguistic relatives (Athapascan) of the Apache and are generally considered to have had, in the 16th century, a culture more similar to Plains nomadic hunter-raiders than to the Pueblo sedentary-agrarian cultures.
Photo: Navajo weaver c.1900-1920
The Pueblo tribes grew cotton and wove blankets and garments on a distinctive pueblo loom hundreds of years before the Spanish arrived (these weaving skills perhaps brought up by Indiansfrom what is now Mexico and Central America), yet it was the Spanish who first introduced sheep to the Southwest.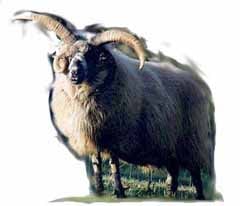 The earliest sheep brought to the Southwest by the Spanish was the Churro, a small sheep with very long silky, smooth stapled wool perfect for weaving and in a variety of natural shades: dark brown, tan and cream. Rarely used today, despite many breeding attempts, the Churro's few modern descendants seem to lack in their wool the length and silkiness, sheen and feel that distinguish the pre-1900 breed. (Photo: modern, shorter wool "Churro")

Photo: Modern Churro Sheep
(Brief Side Note: After Col. Kit Carson and the US government moved all Navajo on the Long Walk of 1864 to the Bosque Redondo Reservation in New Mexico where they were kept until 1868 most of the original Navajo Churro sheep had been killed or died from harsh conditions. The surviving Churro sheep, and those later brought up from Mexico, were bred with Merino sheep and long-haired English breeds but by the 1930's some Navajo rugs were less consistent in wool quality as some breeds were introduced by the government later to produce more meat but had greasy wool that was hard to clean which lead to some rugs being too thick, coarse or "nubby". Continuing wool projects throughout the reservation continue through today as top-quality hand-spun wool is always in high demand.)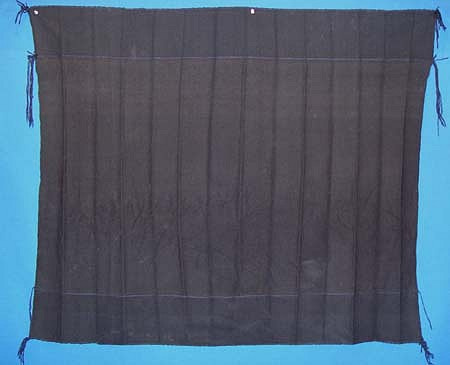 Upheaval of the Pueblos & The Beginning of Navajo Weaving
Harsh persecution of pueblo peoples and the destruction of traditional pueblo culture by the Spanish led to the Pueblo Rebellion of 1680. It was during this turbulent period and Diego de Vargas 1692 Re-Conquest that Pueblo Indians escaping retaliation for the rebellion and lived among the Navajos and introduced both sheep and weaving technology to the Navajo to a degree such that written records among certain Spanish documentation , covering a period from 1706-1743, records the Navajo keeping sheep and weaving wool blankets during that period.
Photo : Pueblo manta, late 19th century
Pueblo weaving techniques, primarily done by Pueblo men and in cotton had been taught to the Pueblo peoples ancient enemy, the Navajo. Navajo women learned both spinning and weaving techniques from the Pueblo peoples and had the Churro sheep from the Spanish and invented a new art form, weaving blankets, enabling the previously nomadic hunter-gatherer culture to settle in one place and still make a living.
Photo : Pueblo manta, late 19th century
The earliest known surviving examples of Navajo blankets are but fragments dating from the 1805 Massacre Cave site near Chinle, Arizona and Canyon de Chelly. At this site more than one hundred elderly men, women and children were slaughtered by Spanish slave traders. The fragments show simple, conservative Pueblo Indian-influenced designs of narrow banding in alternating colors of natural sheep wool tones (white, grey, brown, tan, black) and some vegetal dyes (mostly shades of rust, yellow and green). Indigo blue dyed wool yarn was also found among the fragments. Indigo was obtained by the Navajo from Mexican pony caravans coming up from Mexico City.
The oldest Navajo weavings available to the collector's market can sometimes be dated back to the 1870's or 1860's to a time of transference out of Navajo hands. How old a weaving may have been at time of transfer and beginning of a recorded history is usually unknown. Weavings dated earlier than this time are usually estimated based on style, dyes and ravelled materials used and compared and contrasted with known dated weavings and their dates often broadly estimated (eg. "1800-1860" or "pre-1860") as more specific dating may be impossible at present time.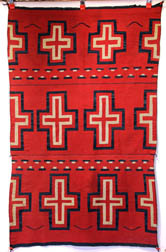 Navajo Blanket & Rug Periods
Classic Period (1700-1850)
Late Classic Period (1850-1868)
Transition Period (1868-1890)
Rug Period (1890-1930)
Regional Style Period (1930-Today)
Other important dates include:
Chemical (Aniline) dyes invented in England (1856)
Aniline dyes transported to Southwest by Santa Fe RR (1865)
Three ply dyed yarn transported to SW from Germantown, Pennsylvania textile mills by Santa Fe RR (1865 approx.)
Four ply dyed "Germantown" yarn (by 1875)
The collectibility of rare and early Navajo Blankets has long attracted the wealthy and celebrated collector from William Randolph Hearst --who over a period of a decade or so before 1920 collected more than 200 important 19th century Navajo blankets-- to the leading actors, filmmakers, recording artists , politicians and business tycoons of today who seek similar items.
Today, anyone who has an interest in decorating their home or office in historic weavings can find examples to fit every budget and every display purpose.